ADVENTIST DEVELOPMENT AND RELIEF AGENCY UK

Your gift today helps tens of thousands of people living in poverty or distress overseas AND here in the UK.
Funds raised in 2020 will support projects in Ghana, Myanmar, Sri Lanka, South Sudan and many other countries. We will also continue to respond to international disasters.
In the UK, ADRA provides support to local community hubs. From counselling, feeding programmes and training, all services help people who face hardship.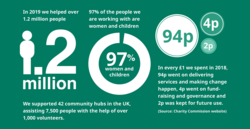 In 2019 we provided emergency aid after Cyclone Idai and Kenneth in Mozambique, Zimbabwe and Malawi, Hurricane Dorian in the Bahamas, the earthquake in the Philippines, flooding in South Sudan, combatting Ebola in the Democratic Republic of Congo and the earthquake in Albania.
We worked on development projects in Zambia, Ghana, Swaziland, Thailand, Myanmar, Sri Lanka and South Sudan.

For further information go to: https://www.adra.org.uk/get-involved/annual-appeal/

If you wish to donate click here: https://app.donorfy.com/donate/C4311R6V76/22f0c77c-24e7-49ca-b80d-081b2cbcefbb

Thank you for your support